As autumn approaches, the evenings get wetter and paws get muddier. Keeping muddy paws under control can be a challenge to say the least. Having a dirt trapper pet mat is a great place to start but what else can you do to keep your home clean, tidy and muddy paw-free? We asked some dog owners for their top tips.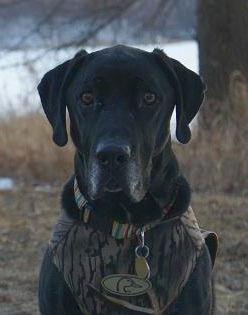 Ace the Lab mix & Lindsay from That Mutt
"Ace is a Lab mix and loves to dive into mud or water any chance he gets, so having at least one towel in the car is a must. The easiest way to get him clean is to use the hose outside while standing on pavement or concrete. If we stand on the grass, the water just creates more mud and more mess! Another option is to quickly wipe each paw with a non-toxic hand wipe. This may not be the best for getting mud out of the nails, but this is a simple way to clean his paws.
I use a door mat as a "holding bay" for my dog. He knows to sit on the mat and wait for me while I get a towel to wipe his paws. It's very important for all dogs to learn to obey a solid sit and stay command. I practice this every day with Ace. He knows to wait until I say "OK," even if his paws are not muddy.
While quite a few dogs will sit on command, not all dogs will sit and remain sitting until released. I highly suggest all dog owners work with their dogs every day to teach the dogs that "sit" means "remain sitting until I say OK." You could use whatever release word you want such as "free!" or "All done." You also want the dog to learn that just because you walk away, it doesn't mean the dog is allowed to follow you. Obviously this is a greater challenge for certain dogs, and you have to start small and slowly build the dog's self-control over time. Sometimes it helps to tether the lead to a door knob.
It's also important to begin handling your dog's feet every day so he gets used to having his feet touched and cleaned. A lot of dogs don't like having their feet handled, and they'll try to get away. Some will make a game out of it by dancing around and mouthing on your hands. So, it's very important to remain calm and reward the dog for calm behaviour."
Alfie the Entlebucher Mountain Dog & Linda at Alfie's Blog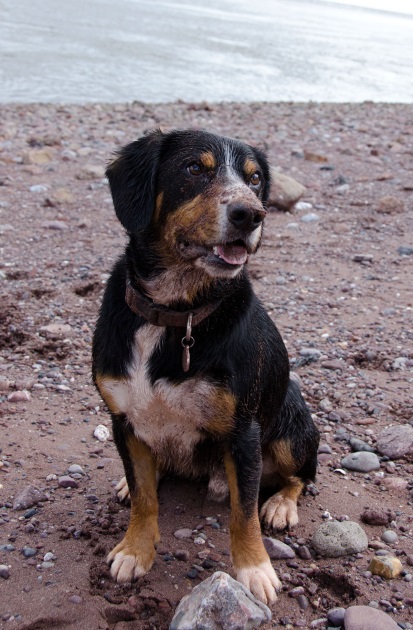 "Muddy paws are one of Alfie's specialties. I never stop Alfie from running in the water or mud; he just loves it so much.
We have a Turtle Mat door mat, and it is great during the mud season. We always have a bath towel lying near the door so we can towel him off directly when we get inside. My mum gave us a microfibre towel glove that's been really useful too, and it takes up less space than a regular bath towel. Apart from that, I simply close the doors to the bedroom and living room and wait for the dog to dry up!
Another problem with mud, that doesn't involve the paws, is the shaking! As soon as we step inside Alfie wants to shake out the rain water and mud from his coat, leaving a lovely splatter pattern on the walls. So as a dog owner, next time we paint the hall – we will make sure to use the most durable and washable wall paint available."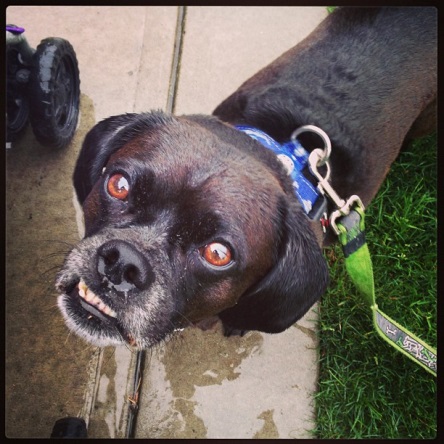 Kolchak the Puggle & Jodi at Kol's Notes
"We see more than our share of muddy paws through the long wet winters. Combine our excess mud with the fact that I have a painfully white apartment (white carpet, white walls, white tiles) and it could be a recipe for disaster. Luckily we've learned a few easy ways to cope.
1. Have a HUGE absorbent mat by your front door. You get bonus points for choosing something mud-coloured. The mat isn't so much to soak up the mud, more to keep it from being tracked all over. We also consider our mat to be the "holding bay" while we deal with the muddy mess.
2. If you have a long hair dog, get some extra-absorbent automotive towels. They're the BEST at soaking up all that water in their foot fur.
3. Keep a pack of organic, unscented baby wipes squirrelled away by the door. Once you've wrung out all the excess water, they're great for wiping the last of that stubborn mud off fluffy paws and they're all you need to clean up short haired paws."
Snoopy the Bearded Collie therapy dog & Annette at Snoopy's Dogblog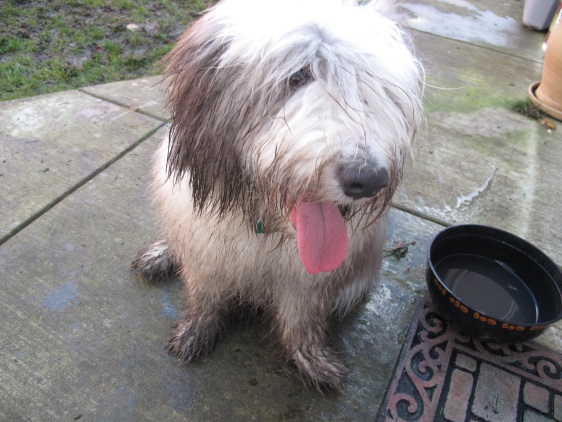 "I take Snoopy running every morning and when we get back I hose down his paws and then dry them with a towel in the garage before letting him in the house. Before we go on a visit I give him a good grooming which takes 1-2 hours, then I put him in the car and also bring his brush for any last minute touch ups.
We were also thinking recently of putting a spray water bottle in the car to deal with any mess on Snoopy's paws whilst we're out and don't have access to a hose.
We do have mats outside our doors, but actually in addition to paw dirt Snoopy has things that get attached to his long coat and hitch a ride into the house where they promptly fall off, so that's probably our biggest challenge but between the two of us we take care of it. Snoopy normally shakes most of it off in the garden or pulls at it with his teeth to get it off; I usually brush them off with my hands or follow him around the house picking them up as he drops them. We also have an animal vacuum!"
What are your top tips for keeping muddy paws under control? Tell us in the comments below or on our Facebook or Twitter!