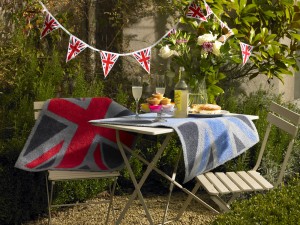 There's been a bit of a debate at "Turtle Towers" this week about Britishness. Perhaps it's the prospect of Jubilee celebrations that have got us mulling this over but the one thing we all agree typifies Britishness is the slightly barmy things we do when the sun comes out (and even when it doesn't!)
Not only do we have a propensity to fling clothes (and modesty) to the wind when the weather sneaks above 18ºC we also seem to believe ourselves imbued with superhuman powers as soon as the days lengthen (I like to call this May Madness). What other explanation could there be for throwing yourself down a hill after a cheese (unless you were very, very hungry) or seeing shin-kicking as a sport? We are lucky enough that "Turtle Towers" is nestled in the Cotswolds and it seems (whether by accident or design I wouldn't like to speculate) to be the epicentre of quite a lot of the "crazy" and we love it.
Monday, 4th June 2012 – Cheese Rolling at Cooper's Hill 2012
Heading out towards Gloucester at Coopers Hill we have the infamous (and now unofficial) cheese rolling on the late spring bank holiday. I have been lucky enough to be there in recent years jostling for position with the German and American TV crews and could only marvel at the recklessness that leads men and women to hurl themselves down a slope with a gradient of 1-in-2 and sometimes 1-in-1 into the waiting arms of the local rugby team.
Monday, 4th June 2012 – Tetbury Wool Sack Races
http://www.tetburywoolsack.co.uk
Even closer to us are the Tetbury Wool Sack Races also held on the bank holiday weekend at the end of May; where teams and individuals carry 60lb wool sacks up a 1-in-4 gradient hill . This is Tetbury's idea of a fun race! The tradition arises from rivalry between two local pubs – The Crown and The Royal Oak.
Friday, 1st June 2012 – Robert Dover's Cotswold Olimpicks
https://www.olimpickgames.co.uk
Finally, an event I attended for the first time a few years ago, Robert Dover's Cotswold Olimpicks, where the self-explanatory shin-kicking competition takes place. Celebrating 400 years of the Cotswold Olimpicks in 2012 with extended celebrations, villagers and tourists alike venture to a field just outside the centre of Chipping Campden to see all sorts of events, most notably competitors kicking each other's shins (ouch!) The culmination of this fabulous evening is a firework display and a torchlight walk back into the heart of Chipping Campden where a band entertains the assembled crowd.
We believe the greatest thing about these events (aside from the camaraderie of wincing at someone else risking their limbs) is their support of rural traditions, practices and businesses; whether this be Smarts Farm of Churcham, Gloucestershire – the makers of the much chased Double Gloucester or the Tetbury and Chipping Campden pubs which benefit from increased trade.
Makes me proud that I as well as Turtle Mats are "Made in Britain".
Written by Turtle Mat's Home Shopping Manager, Rebecca Wilson