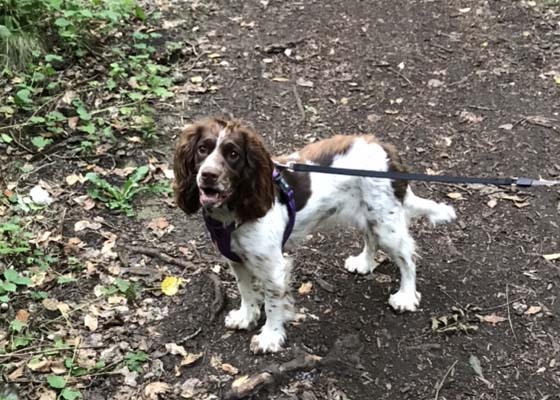 The best dog walks in The Cotswolds
The Cotswolds is known for its picturesque scenery and charming villages, with a wealth of spectacular places to treat you and your beloved dog to a glorious walk. Whether you live in the Cotswolds, are a frequent visitor or have yet to discover its beauty, we have complied a list of the best dog walks available for both humans and pooches to enjoy.
National Trust – Woodchester Park Boathouse Walk
Address: Near Stonehouse, Gloucestershire, GL10 3TS
Miles: 3.5 miles
Longevity: 1 hour 10 minutes approximately
If you enjoy surrounding yourself with fascinating historical ruins than this pleasurable walk through the woods is one that cannot be missed. Following the orange waymarkers, you and your beloved dog will be treated to views of a Victorian mansion, the remains of the coach house and stables that were once associated with a Georgian mansion, and you will enjoy a stroll around a chain of five lakes that were created in the middle of the 18th century. There is wildlife to be spotted, such as Kingfishers, Herons, Mandarin and turfted ducks.
Shotover Country Park
Address: Old Road, Headington, OX3 8TA
Miles: Dependent on route
Longevity: Red trail – 30 minutes, Yellow – 45 minutes, Green – 2 hours.
Whether you want to take your dog for a leisurely stroll in the park or for a longer walking adventure, Shotover Country Park holds 289 acres of beautiful countryside just on the edge of Oxford. The park is home to a vast variety of wonderful wildlife such as green woodpeckers, song thrush, foxes, Roe deer and many more species. There is a variety of different landscapes for your curious dog to explore from dry grasslands, crisscross paths and meadows. If you venture to the top of Shotover Hill, take in the breathtaking views of the south of Oxfordshire.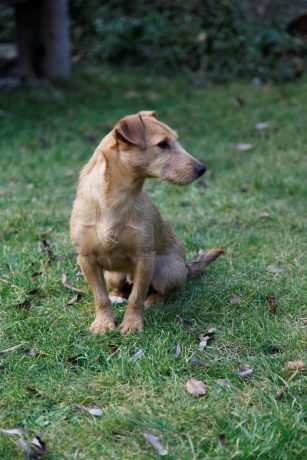 Cotswold Way – Chipping Campden
Address: Market Square, Lower High Street, Gloucestershire, Chipping Campden, GL55 6AW
Miles: 3 miles
Longevity: 1 hour 30 minutes approximately
Chipping Campden provides the perfect introduction for new visitors to the Cotswolds and for people close to the area, it is a great place to take your dog on a pleasant walk. Chipping Campden marks the start and finish of the famous Cotswold Way trail however, we would suggest opting to take your dog for the desirable three mile walk around the circumference of the charismatic market town. You will pass through woodlands, walk upon the narrow paths of the countryside and gaze upon stunning views. Afterwards you can explore the town and enjoy a well-deserved drink and delicious meal in one of the dog-friendly pubs.
Cotswold Water Park
Address: Gateway Visitor Centre, Lake 6 Spine Road, South Cerney, GL7 5TL
Miles: Between 1 mile – 18miles (Dependent on route)
Longevity: Dependent on route
The park has over 150 lakes and a vast array of pathways to venture on for a breathtaking country walk. If you visit the Gateway Visitor Centre, you can choose from one of their walking guides that will help give you and your dog the opportunity to explore the areas meadows, woodlands, lakes, villages and river trails. Whether you take one of the recommend routes or decide to discover your own, it is guaranteed that this will be a memorable adventure for you both.
Windrush and Slaughters Watersway
Address: 7 Station Road, Bourton-on-the-water, Cheltenham, GL54 2AA
Miles: 5.5 Miles
Longevity: 3 hours approximately
Starting in the car park at Bourton-on-the-water this circular walk around the Windrush river and over the ridge of Upper and Lower Slaughter villages, is an easy walk with plenty of stopping points for a cup of tea or a spot of lunch. Along the route you will take in scenic views of the valley below and enjoy the peacefulness of the Cotswold countryside.
We would love to see your pictures of you and your beloved pet(s) on one of these walks so please feel free to share with us on our Facebook page or tag us #turtlemat on Instagram.
Say goodbye to muddy floors
The walks with your beloved pets may be enjoyable but mopping up after their muddy paw prints is far from desirable.  Why not treat your home to a dirt-trapping Turtle Mat.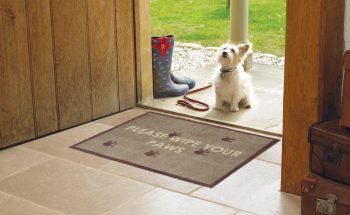 Our doormats and runners instantly traps dirt, dust and moisture from entering your home, keeping your floors consistently spotless so you don't have too. They are made with super absorbent cotton tufts that dogs and cats love to walk along (and can't resist lying on). Our Turtle Mats are machine washable, tumble dryer safe and feature an anti-slip rubber backing, plus they come with a five year guarantee so you can be confident that your home has the best protection for years to come.
We have a range of beautiful designs to choose from, just take a look at our Pet collection of doormats with pet inspired designs that are suitable for paws of all sizes and will trap dirt quicker than you can say ''woof'' or ''meow''. We also have collection of stylish patterned design Runners that are available in a larger 75cm x 120cm size. These runners are ideal for trapping more of your pets muddy paw prints due to their large size and are perfectly suited to large entrance ways and halls. Our Classic Plains collection are also hugely popular with pet owners, as they are available in our largest sizes and are great for those with big dogs as the additional surface area helps to mop up even more mud. Our Small doormats are 40cm x 60cm in size and are perfect for placing underneath pet food and water bowls as they catch any spills and splashes your pet makes.