Spring is an exciting time of year in the garden as it begins to come alive after the harshness of winter. There's lots you can do to help get your garden get in shape and look its best. So, to celebrate National Gardening Week, we've put together a handy list of our top seven gardening tips for you to follow this spring.
Hang on to the foliage of Daffodils and Tulips
Your beautiful display of Daffodils and Tulips may be coming to an end but there's steps you can take now to ensure they put on a colourful show again next year. Contrary to popular belief to tie the leaves of these bulbs or cut them back, instead wait a minimum of 6-weeks to cut back the foliage at the end of flowering, continuing to water and feed (high potash feed) them as you did when they were in flower.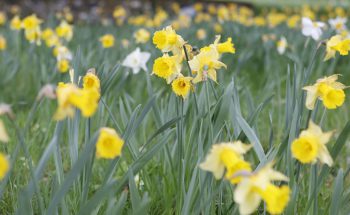 Remove stinging nettles
Annual stinging nettles have an abundance of seed from a young age, so pulling them up from the ground will only help to disperse the seed. The best method we've found is to snip them at their base and keep the root in the ground, this won't stop them growing again but it will make it more manageable as there will be less to snip and you're less likely to disturb the seeds.
Top tip: Always ensure that you wear gloves when handling stinging nettles, especially young stinging nettles as that is when they are most potent.
Aerate your lawn
Aerating is the process of making small holes all over your lawn either with solid spikes, such as a garden fork, or with a special aerating machine. These small holes allow air to get to the roots enabling the roots to breathe and improves both water and nutrient penetration. At first your garden will look a mess but trust us, it will be worth it when you have a lush and patchless lawn.
Top tip: Before you mow your lawn, rake it first so that you remove all the moss that has been growing over winter, this will stop you having any patches on your grass. Spring is also a great time for re-seeding.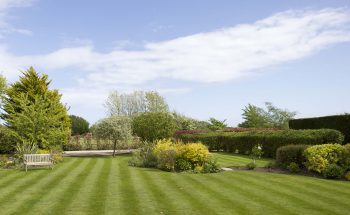 Hoe buttercups
Although buttercups look pretty with their sunshine yellow petals they can be a real nuisance in your lawn as they grow quickly across the ground so it's best to get rid of them as soon as you spot them. Simply use a long-handled hoe to slice the tops of buttercups away, which is best to do when the soil is dry.
Direct sow summer annuals
Late spring is a great time to direct sow some spectacular summer colour into prepared borders. Some of our favourites include Borage, Nigella, Scabiosa and Verbena – all beloved by bees and butterflies. Sow in drifts for maximum effect.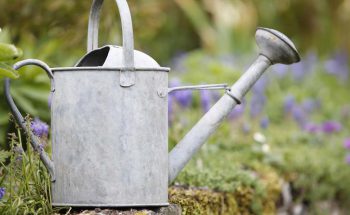 Add mulch
Mulch is a loose covering or material placed over the surface of soil and is used to improve the soil around plants and helps to suppress weeds and diseases, which will start to grow strongly at this time of year. It can have year-round benefits as it helps to retain moisture and maintain temperature in the warmer days of spring and into summer. A top-dressing of mulch can also protect the roots of plants later in the year from frosts.
Plant new perennials
Once you've tidied up from winter and the spring bulb display is over you can start to think about the new plants you want to grow. There's a huge array to choose from that are great to grow in spring, some options include: Damera Peltata, Iris pseudacorus, Ligularia, Rodgersia pinnata, Lilacs, Geranium, Lavender, Penstemon, Lithodora and vegetables such as lettuce, peas and rocket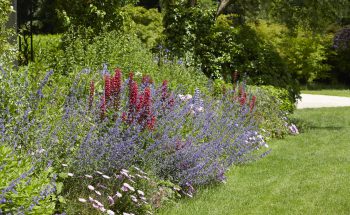 Gardening is a great hobby to have and one that you can get the whole family involved in but it can get very messy. Take a look at our dirt-trapping doormats and all-weathered outdoor mats to keep the mud from the garden at bay. Hello outdoors, goodbye muddy floors!
We hope you find this advice useful and please comment below to share your top tips, we would love to read them.