Celebrate Shrove Tuesday (Pancake Day here in the UK) by making our basic pancake recipe for light and fluffy Scotch-style pancakes and then embellish with your favourite toppings (serving suggestions below):
Super Simple Fluffy Pancakes – makes approx. 6
Ingredients:

4 eggs (separated)
120g of plain flour
220g of milk (or half milk/half water if you prefer)
Pinch of salt
Method:
1. Start by whisking your 4 egg whites to stiff peaks.
2. In a separate bowl, whisk together your flour, egg yolks,  milk and a pinch of salt until the batter is smooth.
3. Slowly fold-in the egg whites, until all combined whilst still retaining the lightness from the egg whites.
4. Heat a pan over a medium heat and add a teaspoon of oil to lightly coat the pan.
5. Add a generous ladle of the fluffy batter to the pan and cook for 4-5 minutes on each side. Don't be tempted to flip them too soon as their fluffy interior will not be cooked through straight-away. Keep the pancakes in a warm oven whilst you cook the rest of the batter – you'll need to add a touch more batter to the pan for each pancake.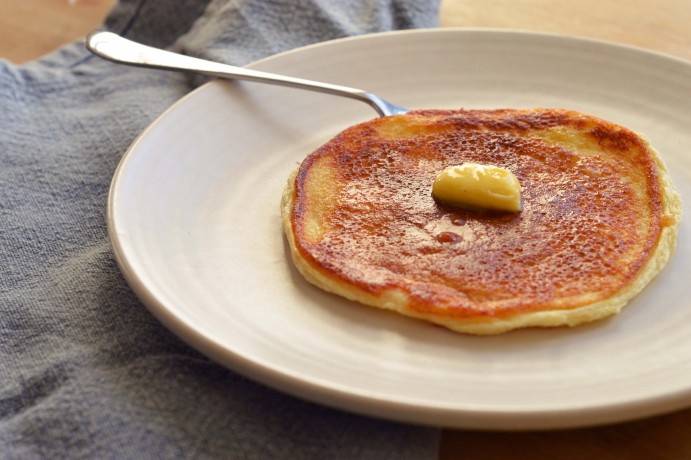 Serving suggestions
Classic:
–          Sugar and lemon
–          Butter
–          Maple syrup
Sweet:
–          Bananas caramelised in maple syrup and drizzled in chocolate sauce
–          Bitter chocolate and peanut butter sauce with vanilla ice-cream and topped with toasted hazelnuts
–          Chopped apple slices, cinnamon spice and crème fraiche
Savoury:
–          Roast beef and mustard
–          Hot smoked trout with horseradish and cream cheese sauce
–          Bacon (maple syrup optional) or roasted vine tomatoes
We hope you enjoy our 'Super Simple Fluffy Pancake' recipe and we would love to see pictures of how your pancakes turned out. Tag us on Instagram @turtle_mat